Laboratory Services
Laboratory Services - Laboratory expertise from industry for industry: analysis, consulting, solutions
The quality and precision of Groz-Beckert products rests not only on high-quality materials and process reliability, but on in-depth analysis and the longstanding experience of the Groz-Beckert central laboratory. Groz-Beckert offers this expertise to outside clients and partners in order to jointly find optimization approaches and exhaust and leverage even tiny potentials.
The laboratory
The laboratory, housed in the Technology and Development Center (TEZ) at Groz-Beckert headquarters in Albstadt, is manned by an expert team from different fields, ranging from chemists and textile technicians to materials engineers. Many companies in the textile industry, in machine building, the medical industry, precision mechanics and metal-working companies within the automobile industry reap the rewards of Laboratory Services' vast knowledge and advanced technologies.
Business activities
The laboratory offering is based on modular design principle and ranges from simple analyses to complete system analysis with proposals for optimization. If there is wear, fatigue or corrosion and improvements are called for, then Laboratory Services is the right partner.
The benefits at a glance
Laboratory Services is a provider of know-how and services. For you as a customer, the benefits will range from simple laboratory services to custom solutions from the combination of materials science, chemistry and textile, as well as from the trusted knowledge, longstanding experience and close proximity to industry and users. Our portfolio furthermore includes:
Complete material and process analysis from a single source
High professional competence
Cutting-edge technologies
Specific causal research
Fast and solution-oriented processing
Are there flaws in your product or are you having difficulties with your processes? Do you have any questions about our portfolio or would you like to learn more? Then please contact us, we are happy to help.
Methods of analysis and services
The scope of services encompasses materials consulting and development, chemical analysis and textile testing, as well as damage analysis. We support you in all areas of quality assurance for raw and operating materials, basic materials and textile materials and are partners in analyzing product and process development. Moreover, we competently and reliably stand by you in developing customized testing procedures.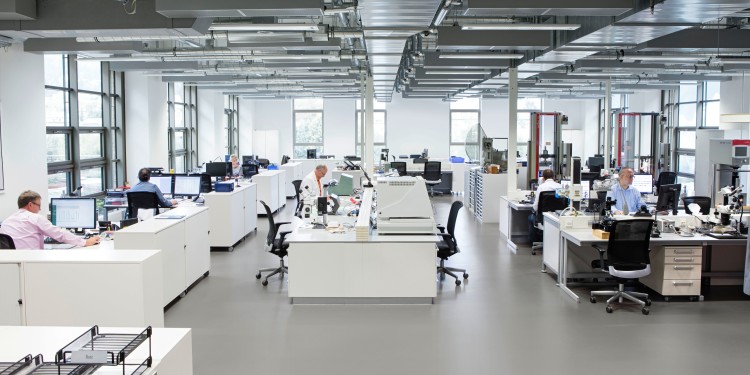 Textile testing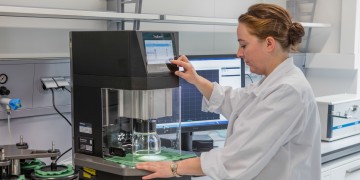 Specifically for the textile industry, Laboratory Services provides analysis of textile end products and raw materials using the latest procedures for analyzing fibers, yarns and textile fabrics. These use standard textile-physical and chemical test procedures under national and international standards, or in-house test procedures which allow for technological monitoring of all textile manufacturing steps. When analyzing quality issues and production influences, Laboratory Services provides comprehensive quality assurance and develops new and custom test methods all along the textile value chain.
As a comprehensive process and solutions partner, we strive to make Laboratory Services available to sectors outside of the textile industry as well. This is reflected in our scope of services for materials consulting and development, as well as in chemical analysis.
Materials consulting and development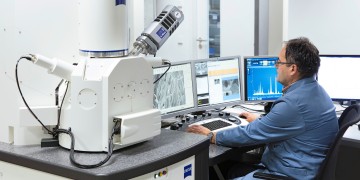 Material monitoring is essential to thorough quality assurance. The research and optimization of materials, components, surfaces and end products are integral elements of Laboratory Services when it comes to materials consulting and development. This is complemented by simulations, tests and applications – including beyond material testing – and by developing and manufacturing new materials, coatings and composite materials. Materials consulting at Laboratory Services has a treasure trove of experience and advanced research and development to fall back on.
Chemical analyses
Groz-Beckert's longstanding market presence has influenced Laboratory Service's scope of service and thereby also includes cross-sector chemical analysis: from analysis and materials consulting for polymers and raw materials, supplies for green technology process, waste water analysis and air-pollutant measurements to surface, plastics and trace analysis for materials, component parts and products. Moreover, Laboratory Services provides research in accordance with tribological values.
Claims and damage analysis
Damage must be tested to determine primary cause. Laboratory Services carries out comprehensive, systematic damage analysis on the cause of quality concerns in materials, auxiliaries and textile materials in order to derive targeted measures for damage prevention. Customers are provided with reliable damage assessment from professional analysis and specific textile know-how. The failure of a material or component part can also be caused by design, production and operational factors. In this event the cause and progression of damage to a component part can be analyzed using materials research in a lab.
Close cooperation between the various specialized laboratories, the textile experts at the TEZ and other departments at Groz-Beckert gives Laboratory Services interdisciplinary competence to allow for a holistic approach to issues.
Whether application or materials consulting, damage or chemical analysis, monitoring of new processes, component parts and product launches or textile tests and new developments - the experts at the Groz-Beckert Service Laboratory are glad to take on challenges.